On February 18, Park & Planning Staff briefed the Planning Board on its existing conditions analysis regarding the Silver Spring Downtown Plan Area. Staff reported that there currently is approximately 24 million square feet of development in downtown Silver Spring and 40 million square feet of currently mapped density through the existing zoning, leaving approximately 16 million square feet of unbuilt capacity. Staff is beginning to grapple with why there remains such a wide range of unused density, and how to entice developers to build more in the Plan Area.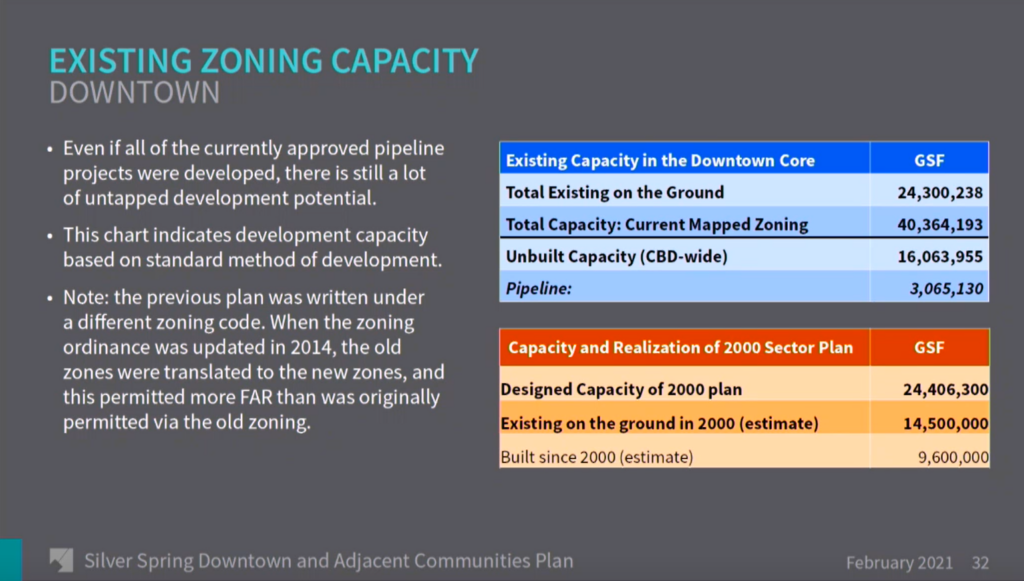 There is a recognition that the Silver Spring market is different than Bethesda. In Bethesda, the incentive for redevelopment was to create greater heights and a system whereby owners/developers could in effect buy density for a relatively low fee, in exchange for providing significant public benefits. In Silver Spring, Planning Board members began discussing, at its February 18 briefing, other alternatives in Silver Spring, including providing significant new height allowances and a requirement for design excellence, instead of a separate fee for density.
On February 25, Park & Planning's consultants briefed the Planning Board on a Retail and Office Market Study. Visioning sessions will continue throughout the Spring, with Planning Staff providing a Draft Plan to the Planning Board in Fall 2021. If you own property in the Silver Spring area, or have an interest in redevelopment opportunities — it is important to stay engaged in the Sector Planning process with Staff, the Planning Board and ultimately the County Council.
If you are interested in learning more information about the Sector Plan and opportunities for engagement, please contact one of our Land Use attorneys.