Overview
Stuart Barr is a land use and zoning attorney focused on all phases of real estate development approvals through building relationships, strategic planning, and working with expanding businesses.
A long-time Montgomery County resident, Stuart has a passion for large and small projects that make a difference in and around the community. He thrives on working with Montgomery County and the municipalities within the County to execute great projects to the highest standards understanding that these developments will become part of the community's fabric.
Stuart concentrates on land use, planning, zoning and rezoning (local map amendments), real estate development and redevelopment, and master plans and sector plans in the City of Gaithersburg, the City of Rockville, and all jurisdictions of Montgomery County. He is highly adept at all stages of development and the entitlement process including due diligence, sketch plan, subdivision (preliminary plan), resubdivision, minor subdivision, site plan and site plan amendment, project plan, record plats, variances, administrative appeal, nonconforming uses, and zoning text amendments.
Stuart also handles a variety of real estate easements, development agreements, impact taxes and tax credits, Transferable Development Rights (TDRs), Building Lot Termination (BLT), building permit, use and occupancy (U&O) permit, and other permits, water and sewer category changes, administrative law, annexation, and historic preservation (Historic Area Work Permits).
Stuart assists the firm's retail and development clients with new locations and represents the firm's institutional clients on expansions with a particular focus on special exception (conditional use) approvals for life care facilities, nursing homes, gas stations, country clubs and golf courses, community swimming pools, and private schools.
In addition, he represents property owners under threat of condemnation (eminent domain) in order to achieve just compensation for their property. Stuart's clients appreciate his commitment to finding creative solutions to difficult problems, as demonstrated in both his level of detail and his consideration of many options for each challenge.
A resident of Gaithersburg, Stuart enjoys spending time with his wife and two daughters and their disorderly mutt, staying active with the community, playing basketball, and traveling to various destinations, particularly National Parks.
Education
University of Maryland School of Law (J.D., with honors, 1999)
Lawrence University (B.A. in Philosophy, 1995)
Admissions
Maryland
District of Columbia
Virginia
Honors and awards
Listed in Best Lawyers in America, Land Use and Zoning Law (2021-present)
Named to Top Attorney List by Bethesda Magazine (2023)
Named "Rising Star" by Maryland Super Lawyers, Land Use & Zoning (2010-2013)
Named "Rising Star" by Washington, D.C. Super Lawyers, Land Use & Zoning (2010-2013)
Named "Exceptional Volunteer" by Gaithersburg-Germantown Chamber of Commerce (2010)
Received Henry Lerch Pro Bono Service Award (2011 and 2021)
Community involvement
Leadership Montgomery Core Class of 2022
Bethesda Chevy Chase Rotary Club (President, July 2022; President-elect, 2021; Member, 2011-present)
Gaithersburg Parks, Arts, and Recreation Corporation (GPARC) (2019-present)
Lakelands Community Association (Chair, Design Review Committee, 2014-2019)
Corridor Cities Transitway Area Advisory Committee (2014-2015)
Professional memberships
Gaithersburg-Germantown Chamber of Commerce (Chair, 2016; Board of Directors, 2011-present)
Montgomery County Department of Permitting Services Advisory Committee (2012-2018)
Maryland Building Industry Association
Bethesda Chevy Chase Rotary Club
Bar Associations of Maryland and Montgomery County, Maryland
Practice Areas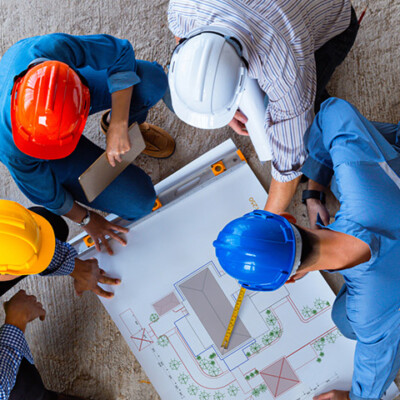 National and regional developers, property owners, and investors choose Lerch Early, the region's largest land use and zoning practice serving Maryland and DC, for counsel on planning and developing successful projects in Montgomery and Prince George's Counties and surrounding jurisdictions.
News & insights
In 1965, the Voting Rights Act was passed, the Beatles performed the first stadium concert in the history of rock, and the Washington Hilton opened just north of Dupont Circle …
View All Insights
Representative Matters
MedImmune/AstraZeneca: Serve as land use counsel for company's long range planning and development of Gaithersburg campus.
Home Depot: Represent national retailer to obtain approvals for development and expansion of stores in Montgomery County (Bethesda, Shady Grove, and Aspen Hill).
Kimco Realty: Represent national REIT in redeveloping Gaithersburg Kentlands Market Square property.
National Lutheran Home (The Village at Rockville): Represent continuing care retirement community provider in building expansions, special exception, subdivision, and sewer service approvals for nursing home facility, assisted living units, and independent living units across 30-acre campus in Rockville.
Condemnation Matters: Purple Line and other county property acquisition projects.
CalAtlantic/Lennar Homes: Development of The Chase at Quince Orchard residential community in Gathersburg.
Bethesda Country Club, Kenwood Country Club, Montgomery Hospice, Our House Youth Home, and other special exception (conditional use) properties: Secure approvals to expand and maximize use of properties, and enable new construction.
Landon School, Strayer University, Butler School, Concord Hill School, and other private schools: Represent various private schools on approvals for campus projects and operations.
Johnson Family property, Hanson Family property, and other large residential property developments: Represent land owners on zoning approvals for residential development.
Chevy Chase Bank: Represented the company on development approvals for 10+ bank branch locations throughout the region.
Habitat for Humanity: Represented Habitat on approvals for the construction of a 19-townhome all affordable housing project (pro bono).
VCA Veterinary Hospital: Represented veterinary hospital on zoning approvals and historic area work permits.
Trammell Crow Company: Development of a 800,000 square foot life sciences and biopharmaceutical campus in the City of Gaithersburg.
Disclaimer: Each case is different and past results do not guarantee similar results in future matters.