Overview
Dave Anderson oversees Lerch Early's general operations, including administration, human resources, and information technology. As a member of the firm's Management Committee, he translates its strategic initiatives into day-to-day operations.
A problem-solver, Dave is adept at directing firm resources to best serve clients. Known for his good nature and commitment to finding solutions, he serves as a bridge between attorneys and staff. He brings a hospitality mentality to his work—his goal is to foster an environment of responsiveness to the clients we serve and to maintain Lerch Early as a great place to work.
Before he joined Lerch Early, Dave was vice president of operations at Shady Grove Adventist Hospital where he oversaw a variety of clinical and support departments of the 260-bed facility. He was named "Transportation Benefits Coordinator of the Year" by Montgomery County for his "encourag(ing) employees to participate in alternative commuting options" and the "time, effort and enthusiasm that he and his staff put into promoting transit options and programs."
Dave's interests include serving as chair of the finance committee for his church and participating in outdoor activities including golf, softball, biking, camping, and traveling.
Education
Washington Adventist University (formerly Columbia Union College) (B.S.)
Honors and awards
Transportation Benefits Coordinator of the Year, Montgomery County (2007)
Community involvement
Rebuilding Together Montgomery County (Vice President, 2015, Board of Directors, 2012)
Professional memberships
Leadership Montgomery (Chair of Finance & Treasurer 2014, Vice President of Finance Treasurer 2012, Assistant Treasurer 2011, Board of Directors 2011-present, Class of 2005)
News & insights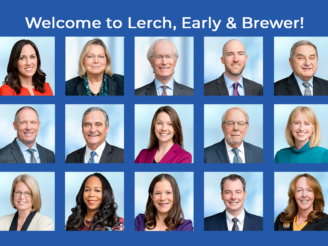 Lerch, Early & Brewer is pleased to announce the addition of 15 new attorneys to the firm, bringing the total number of attorneys to 75 and bolstering a number of …
View All Insights