Overview
Trish Weaver is a litigator, appellate and corporate attorney serving businesses and individuals in Maryland and the District of Columbia.
Subscribing to the philosophy that "an ounce of prevention really is worth a pound of cure," Trish anticipates issues and works closely with her clients to avoid litigation down the road. When it comes to her clients, Trish imagines her dad sitting in her client's seat, and provides the legal advice, respect and understanding that she would give to him.
Trish enjoys building ongoing relationships with her clients as their business advisor. By understanding their business objectives, and learning the dynamics of their company, Trish remains attuned to the factors that may influence her clients' decision making. She works to educate her clients on the legal implications of business options, identifies attendant legal costs, and recommends and proposes strategies for accomplishing their goals.
She has been recognized as a "Best Lawyer" in Appellate Practice and Commercial Litigation since 2016. Trish takes pride in providing representation that battles the AMLaw100 firms, but does so at reasonable rates.
Over the past 25 years, she has handled numerous appeals, authored briefs and argued before the Maryland Court of Appeals, the Maryland Court of Special Appeals and the U.S. Court of Appeals for the Fourth Circuit. In addition to this regional practice, Trish has handled appeals in numerous federal circuits. She is admitted to, and awaits the chance to argue before, the U.S. Supreme Court.
In her trial practice, Trish handles a variety of cases spanning the civil spectrum, but concentrates on complex commercial litigation and estate litigation. She has represented clients in many contract and real estate development disputes, sophisticated estate litigation matters and a number of employment/business competition cases. In addition to her numerous appearances in state and federal trial courts, she has represented physicians, psychologists, and lawyers before disciplinary boards.
In conjunction with her Alternative Dispute Resolution practice, Trish serves as a mediator by court appointment and by private engagement. She works hard to keep her clients out of litigation and to successfully mediate complex disputes. She has published articles on the advantages of a mediated resolution in business and all other variety of disputes.
Trish previously chaired the Litigation, Appellate, Alternative Dispute Resolution, and Professional Ethics & Discipline practices at Paley Rothman.
Long committed to community service, Trish and her husband, Mike, had their first date volunteering together at a soup kitchen in Silver Spring. She knew from the start that it was the beginning of something special, and they have continued to volunteer with the same group for over 15 years.
Outside of the office, the three things that reliably bring a smile to Trish's face are live music, slalom waterskiing, and her grandson, Seth.
Education
University of Maryland School of Law (J.D., With Honors, 1991)
University of Maryland (B.A., Magna Cum Laude, Psychology, 1987)
Admissions
Maryland
District of Columbia
U.S. District Court, District of Maryland
U.S. Court of Appeals, 4th Circuit
U.S. Supreme Court
Clerkships
Served as law clerk to the Honorable Howard Chasanow, Supreme Court of Maryland
Honors and awards
"Andre L. Sonner Diversity Award," BFMC (2022)
Best Lawyers in America – Best Lawyers: Appellate Practice, Commercial Litigation, Mediation (2016-2023)
Listed in Maryland Super Lawyers (2014-2023) – Top 50 Women Maryland Super Lawyers (2017, 2019, 2021 – 2023)
Listed in Washington D.C. Super Lawyers (2014-2023)
"Top Attorneys," Bethesda Magazine, Appellate ​(2019, 2021)
"Professionalism Award," Bar Association of Montgomery County (2013)
"Top 100 Women in Maryland," The Daily Record (2012)
"Leadership in Law Award," The Daily Record (2011)
Committee Chair of the Year – Social Committee, BAMC (2007)
Committee Chair of the Year – Fee Dispute Resolution Committee, BAMC (2006)
Ranked AV Preeminent by Martindale-Hubbell Peer Review Ratings
Community involvement
Shepherd's Table – Soup Kitchen Volunteer (2003-present)
House of Ruth – Pro Bono Legal Services (2009-present)
Special Olympics – Volunteer and Fundraiser (2012-present)
DC Volunteer Lawyers Project, Pro Bono Services as Guardian-ad-Litem (2018-Present)
Professional memberships
Montgomery County Bar Foundation Racial Justice Council – Co-Founder and Co-Chair (2020-present)
Maryland Judicial Appellate Nominating Commission (2019-2022)
Maryland State Bar Association Ethics Committee (Chair, 2015-2017; Member, 2005-present)
Bar Foundation of Montgomery County (President, 2011-2012; Board of Directors, 2010-present)
Bar Association of Montgomery County (President, 2010-2011)
Women's Bar Association of Montgomery County (President, 2005-2006)
Practice Areas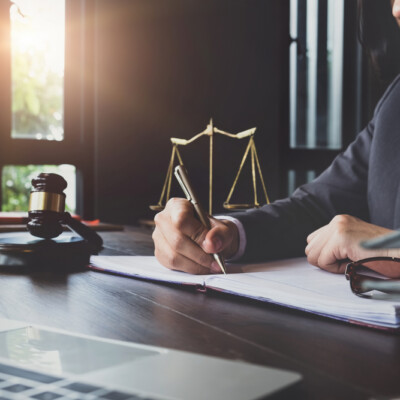 Lerch Early's litigation team helps businesses, including nonprofits, and individuals resolve disputes throughout the Washington, DC metropolitan area.
News & insights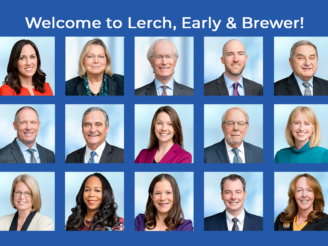 Lerch, Early & Brewer is pleased to announce the addition of 15 new attorneys to the firm, bringing the total number of attorneys to 75 and bolstering a number of …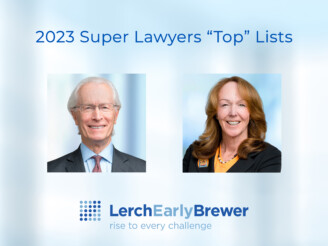 2023 Super Lawyers has named litigation attorneys Glenn Cooper and Trish Weaver to its Top 100 Lawyers in Washington, DC list. Cooper also appears on the Top 10 Lawyers in …
View All Insights
Speaking engagements
Panelist – Shaping the Future of Dispute Resolution & Improving Access to Justice Conference, "How is the Market Currently Addressing These Party/User Needs and Expectations?" (June 2017)
Panelist – ABA webinar, "How to Preserve Your Record for Appellate Review" (September 2016)
Panelist – Ethics Committee, "What Do You Mean That's Unethical?" (June 2016)
Panelist – Bar Association of Montgomery County Annual Law Day, "Lawyer Ethics, Cutting Edge Best Practices And The Use Of Ethics Counsel: What Should You And Your Firm Be Considering?" and "Ethics, Best Practices And The View From The Bench" (April 2016)
CLE – National Court Reporters Association, Presentation on Depositions (October 2013)
CLE – Bar Association of Montgomery County, "Preliminary Injunctions and Other Relief" (April 2012)
CLE – International Municipal Lawyers Association, National Conference, "Appealing Ideas – Tips for a Successful Appellate Practice" (April 2007)
CLE – Bar Association of Montgomery County, "Appellate Practice Tips," with Hon. Mary Ellen Barbera and Hon. Patrick Woodward (March 2007)